Why do you need to appoint a Data Protection Officer?
The main mission of a DPO is to make sure that the organisation that appointed them acts in compliance with the data protection legal framework.
The function of the Data Protection Officer (DPO) is a key element of co-regulation, through practice.
Inform and
raise awareness
Submit a report to the Data Controller
Establish and maintain "accountability" documentation
Ensure mediation
with the data
subjects
Ensure compliance with the legal framework
Interact with the Data Protection Authority (e.g. ICO)
What are the required skills to become a DPO?
The role of DPO requires expert skills in the following areas:
Legal
Understanding of legislation and case law regulating the processing of personal data.
Technical
Being technically savvy : information system, computer science, cyber security, information and communication technologies, mathematics, data protection and privacy by design and by default.
Operational
Create and implement a programme related to data privacy, getting employees and the company's ecosystem on board, training employees/subcontractors, leading the network of internal and external stakeholders.
Languages
Proficiency in the languages spoken by the data subjects (French, English, German).
Behavioural
Engage your collaborators, subcontractors, and hierarchy, bring together all energies, and foster a culture of compromise.
Why choose an outsourced DPO?
It is unlikely that your company will have an employee with:
The required skills
Data Privacy Professionals has the legal, technical, operational, linguistic, behavioural required skills.
The time
Data Privacy Professionals has the time to fulfil the role of Data Protection Officer for your organisation.
The required experience
The role of Data Protection Officer involves extensive experience in many areas.
Data Privacy Professionals has all the means to act as your outsourced Data Protection Officer.

Contact us to assess your needs and receive a customized DPO as a Service offer.
CONTACT US
Data Privacy Professionals' outsourced DPO offer
Within the framework of the GDPR, the consulting firm Data Privacy Professionals offers you to become the outsourced DPO of your company.
The DPO as a Service (DPOaaS) offer depends on the size and the sector of activity of your company and starts from 4 days of mission per year.
Data privacy by design ou by default
Consideration of data protection and privacy aspects by design and by default (DP by design and by default).
Risk-based approach
Traditional risk management as developed in project management (PMI) or through PIAs (privacy impact assessment, data protection impact assessment).
Accountability
Maintain documentation to demonstrate compliance with data protection rules.
Advice and analysis
Analyze the situation, inform and advise the Data controller.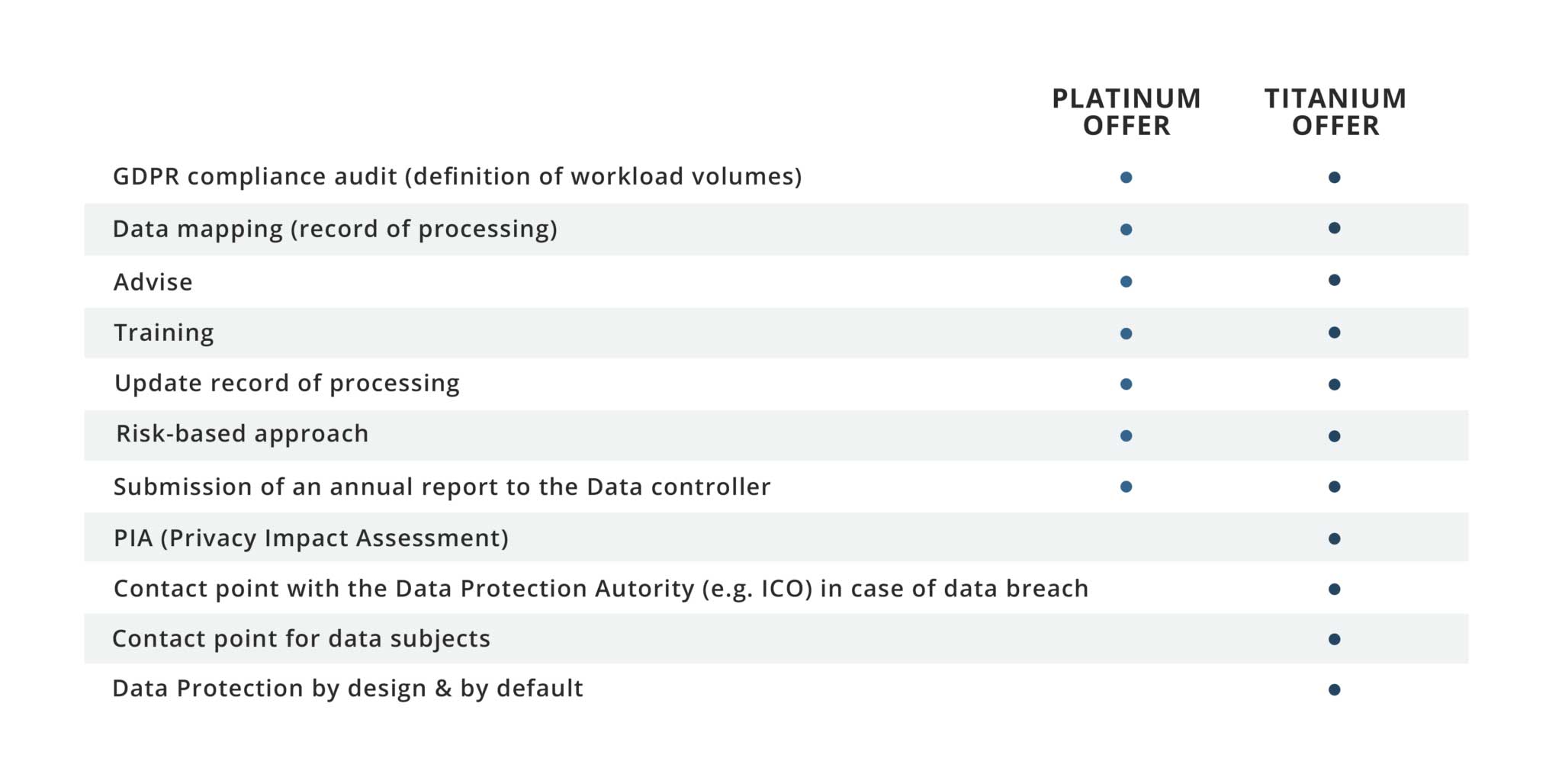 Workload and costs under control
In order to provide the most suitable outsourced DPO solution, we assess the fixed and variable workloads upstream by carrying out an audit. This initial phase determines the real needs of your company and identifies its GDPR maturity.
DPO as a Service (DPOaaS)
Data Privacy Professionals meets both long and short term needs. The DPO as a Service offer guarantees great flexibility, controlled costs and freedom in your decisions.
Flexibility
The offer can be adapted to the needs of your organisation: annual, monthly or hourly. You choose the most appropriate offer.
Controlled costs
Our consulting expertise offers you assistance in assessing your needs according to your objectives, and in choosing the most suitable solution.
Freedom
No automatic contract renewal.
Our outsourced DPO costs
In order to propose an offer adapted to each structure, our rates evolve according to your size and your objectives.
Very small enterprise
Starting from
170 € / per month
Small and medium enterprise
Starting from
390 € / per month
large enterprise

contact us for
a quote
Why choose Data Privacy Professionals?
Expertise
Data Privacy Professionals has the technical, legal and operational skills necessary for the Data Protection Officer role, acquired through a decade of experience in data privacy.
Versatility
Data Privacy Professionals assists various types of companies, particularly in the e-commerce, health, social, industry, software publishers fields.
Proximity
In order to build a long term relationship with its clients, Data Privacy Professionals provides a high quality customize service specific to each company.
Cost control
Package customize to your needs. Documentation to track the actual work.
Independence
Our tools are proprietary and not dependent on any external company.
Data Privacy Professionals act as an independent firm. It choose absolute impartiality and neutrality.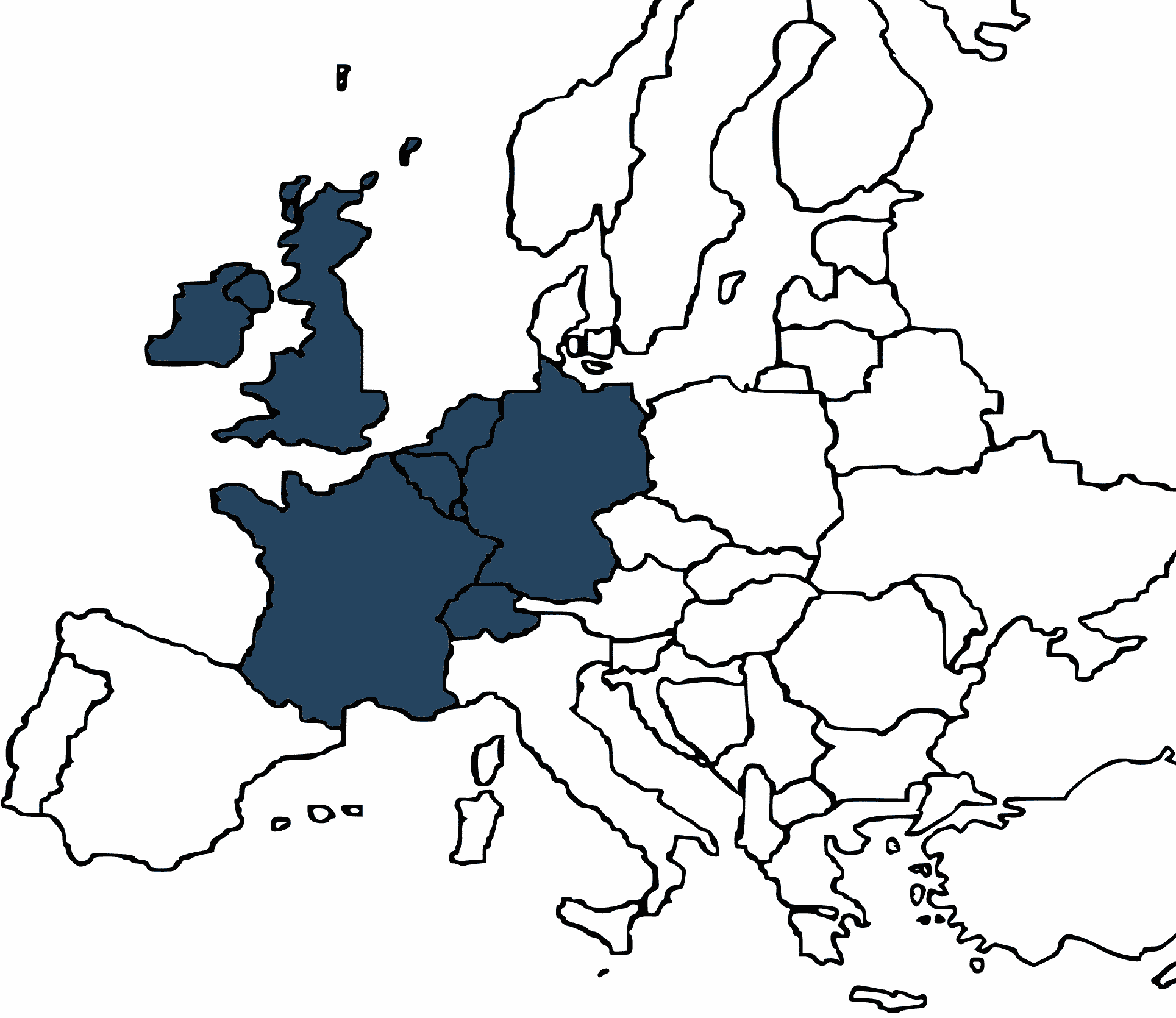 Our areas of intervention
Data Privacy Professionals acts as DPO in:
• France
○ Grand-Est : Bas-Rhin (Strasbourg), Haut-Rhin (Colmar, Mulhouse), Moselle (Metz), Meurthe-et-Moselle (Nancy), Vosges (Saint-Dié, Epinal), Meuse (Bar-le-Duc), Aube (Troyes), Ardennes (Charleville-Mézières), Marne (Reims, Châlon-en-Champagne), Haute-Marne
○ Ile-de-France : Paris
• Germany
○ Bade-Wurtemberg : Karlsruhe, Fribourg, Stuttgart, Offenbourg, Kehl
○ Sarre : Sarrebruck
• Switzerland : Basel
• Luxemburg
• Belgium
• United Kingdom : London
CONTACT US